Turkey: Journalists gather for peace and speak out against censorship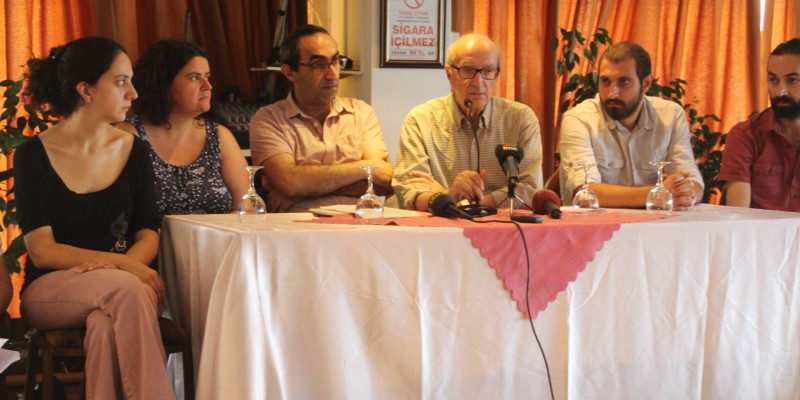 Since the end of July, media organisations and journalists in Turkey are particularly affected by the growing armed conflict between the Turkish government and the Kurdistan Workers Party (PKK). Access to over 100 news and information websites including major news portals on Kurdish issues such as Dicle News Agency (DIHA), Etkin News Agency (ETHA), Özgür Gündem newspaper and Sendika.org news portal on Turkish trade unionism have been blocked in Turkey by the High Council for Telecommunications (TIB).
Based on the initiative of the TGS (Journalists Union of Turkey, EFJ-IFJ affiliate), TGC (Association of Journalists in Turkey), Disk Basin-Is (Progressive Journalists Union of Turkey), Kurdish and Turkish journalists gathered recently in Istanbul to speak out against the growing media bans and censorship in the country.
Turgay Olcayto, TGC President, critized "the government's dominant power will to create a single type of reporting, one-side journalism in order to impose a uniform message to the public and to push journalists to promote war instead of peace. Journalists should defend peace".
TGS board member and journalist Sevgim Denizalti opposed "the ongoing censorship imposed to media organisations" and reminded that journalists will never accept pressures and will continue to report despite the attacks. Özge Yurttas from DISK Basin-is stated that "the concept of war is being launched against the people. All the media organisations being censored are effectively running the struggle to revive the peace process. All the banned websites must immediately be reopen".
Fatih Polat (Evrensel newspaper) explained that the High Council for Telecommunications' decision to massively block news websites followed remarks made by Deputy Prime Minister Bülent Arinç clearly targeting media outlets as "crime machines". The administrative decision was later approved by a local court and subsequently all access have been revoked to the mentioned online platforms.  According to Polat, "the move was clearly politically motivated and the pressure, threats and attacks on media is still active for selected opposition media outlets".
Censorship is not limited to media organisations, many bloggers and social media users have encounter problems to express their views and opinions. For example, nearly all of the more than 77 million websites hosted by WordPress.com were inaccessible to the people of Turkey due to administrative decision taken by the Turkish authorities.
Meanwhile prosecution continues to heavily affect professional journalists in the country. National press reports that Turkish prosecutors have asked 7,5-year jail sentence for 18 journalists working for nine different newspapers on charges of "making propaganda for a terrorist organisation" after publishing a picture from an hostage siege that happened on March 31, 2015 in Istanbul when two terrorists from the outlawed Marxist Revolutionary People's Liberation Party-Front (DHKP-C) attacked a Turkish prosecutor in his office. Journalists working for the daily newpapers Cumhuriyet, Millet, Şok, Posta, Yurt, Bugün, Özgür Gündem, Aydınlık and Birgün are now being prosecuted for the publication of a picture showing the siege. The images heavily circulated on social media and several Turkish and international newspapers and news websites also published them to illustrate their articles.
Photo : DIHA