Europe's journalists subjected to increasing levels of harassment
Journalists and media workers in Turkey, Hungary and the Balkans are facing increased hostility as they do their jobs, according to a survey of the verified incidents reported to Index on Censorship-EFJ-RSF's Mapping Media Freedom project.
Since May 2014, Mapping Media Freedom project has been documenting media violations throughout the European Union, including candidate and neighbouring countries. The project is an interactive platform that allows the reporting, mapping and monitoring of threats to media freedom. Mapping Media Freedom is run in partnership with the European Federation of Journalists and Reporters Without Borders, and is partially funded by the European Commission. The over 1,000 violations that have been recorded so far have exposed the dangers faced by journalists across the continent. The project expanded in September to cover Russia, Ukraine and Belarus, in reaction to new draconian measures and violence in the region. New partner affiliations have also been formed in order t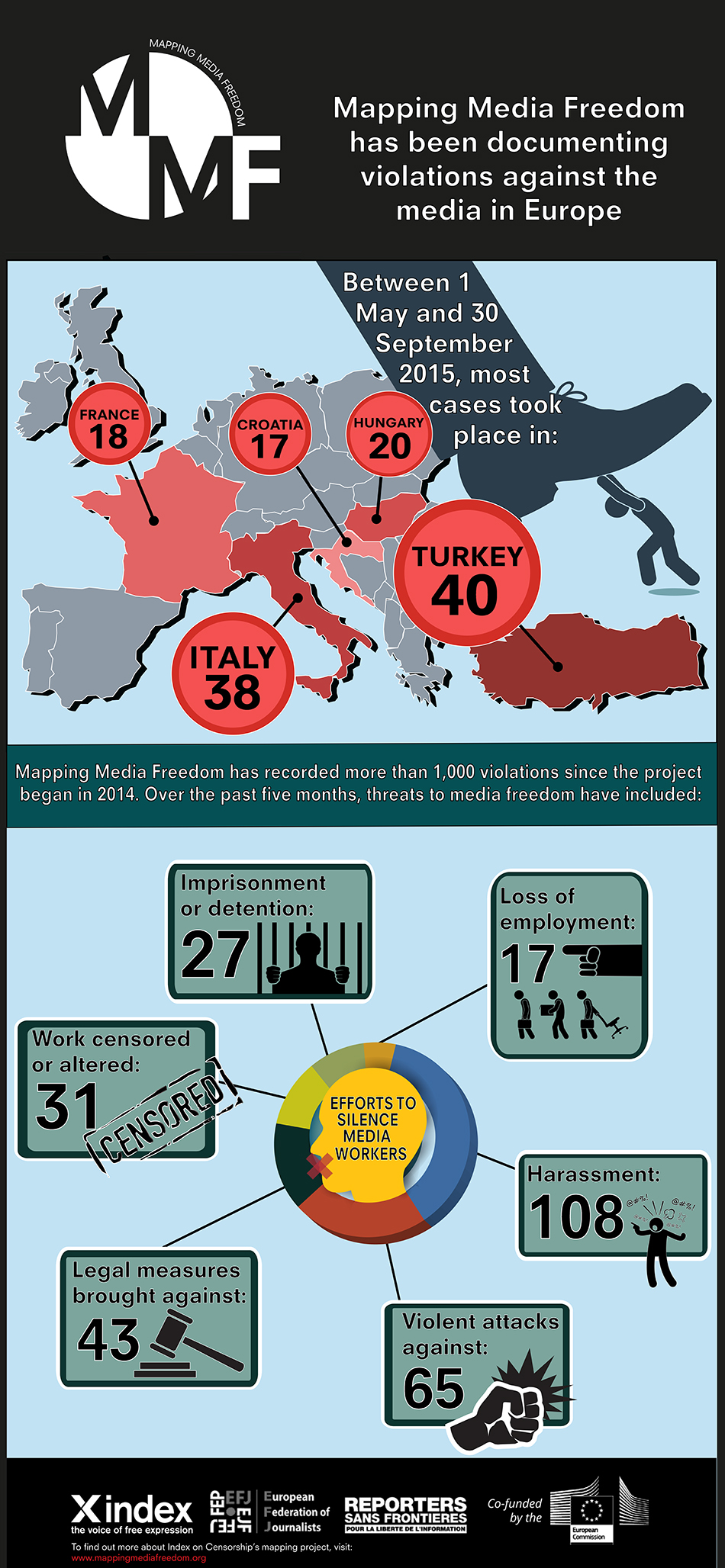 o increase support for media workers, including with Media Legal Defence Initiative, Human Right House Kiev and European Youth Press.
Between 1 May and 30 September 2015, 285 violations of media freedom have been recorded and verified. More than a third of the incidents – 108 cases – included harassment against journalists.
Cases include that of Saša Leković, the president of the Croatian Association of Journalists, who received a parcel containing a death threat, as well as a number of threats on social media. And in Italy, founders of local news site Infonodo.org were threatened by the former Mayor of Seregno, Giacinto Mariani. While standing in front of the town's city hall, Mariani told camera crews: "These people must die." As we noted in our May 2015 report, Turkey is, again, the country that has received the most reports of media violations. In the run up to the country's general elections in November, press freedom continues to deteriorate, with multiple cases reported of media organisations being raided and journalists being detained, imprisoned or deported.
The map has also indicated an increase in violence against journalists, particularly within Turkey, Hungary and the Balkans.
The five countries with the most verified reports are: Turkey (40), Italy (38), Hungary (20), France (18) and Croatia (17). The successor nations to the former Yugoslavia (Serbia, Croatia, Bosnia, Macedonia, Montenegro, Kosovo and Slovenia) had a combined total of 55 out of 285 incidents that have been verified by regional correspondents.
Hannah Machlin, Index on Censorship's project officer for the Mapping Media Freedom project says: "Independent media outlets in the region, particularly in Russia, have become increasingly under threat for multiple reasons, from restrictive government policies to 'soft-censorship' techniques, such as the withdrawal of advertising contracts. Expanding the project will further our understanding of these threats through specific case studies and enable us to support media outlets under pressure."