Self-censorship is affecting more and more European media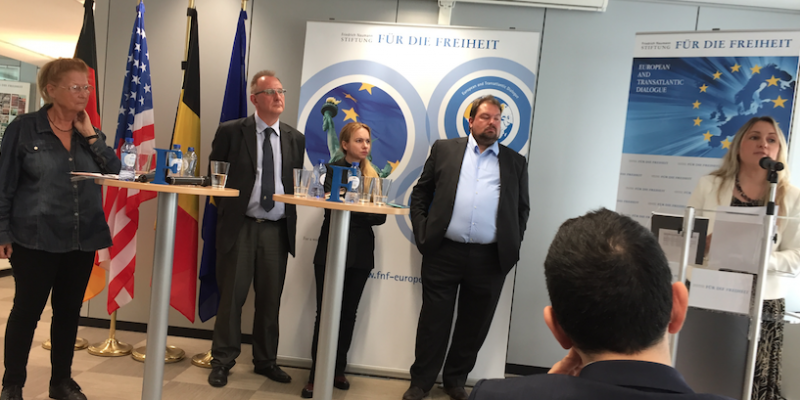 I can't write that, it seems that more and more European journalists are saying this sentence to themselves when working for a media outlet. The refugee crisis, the Cologne attacks, the Panama papers or the new French surveillance law are some recent examples of sensitive topics that raised the question of self-censorship among journalists. The Friedrich Naumann Stiftung für die Freiheit in co-operation with the EFJ organised an event (02/05/2016) in Brussels to discuss how self-censorship affects journalists' reporting in the European media industry.  The debate was moderated by EFJ Director Renate Schroeder, who at the outset drew the meeting's attention to a comprehensive quantitative study on unwarranted interference, fear of crime and self-censorship among journalists in Europe recently launched by the Council of Europe in cooperation with the EFJ and press freedom groups.
Trade unionists or journalists like Sezin Öney (Turkey), Jànos Kàrpàti (Hungary), Wolfgang Grebenhof (Germany) and Dominique Pradalié (France) have all  experienced different kind of self-censorship in their country.
Journalists in Turkey are suffering from self-censorship under the rule of President Erdogan. Sezin Öney explained for example how self-censorship is leading to soft and harsh censorship in Turkey. "When there is an attack for example, social media are blocked immediately after, so you don't know what is happening in your own country and you are not able to report about it because there is no access to sources." The debate also raised the question of economic pressure leading to self-censorship. "I didn't even think of mentioning the pressure of economic actors since I never earned money with journalism" said Sezin Öney, who is now working as a political scientist at Bilkent University to make a living. She went on listing the new types of attacks against journalists in Turkey, such as blocking web pages and news websites; broadcasts and social media bans; foreign correspondents targeted; confiscation of passports and massive intimidation via anonymous online trolls.
Editor in chief at France 2 Television Dominique Pradalié (Syndicat National des Journalistes, SNJ) denounced the Information law and the Trade Secrets directive which are affecting journalistic work:
"In the past, France was the country of human rights, now it is the country of human rights declarations" she said, : "Now you have to meet your sources somewhere in a forest with a pen and a piece of paper to avoid surveillance which is not always possible." Pradalié considers the situation alarming for journalists in France and she mentioned the following topics as the main dangers for journalists : Surveillance law for secret services, the EU trade secrets directive, reform of the press freedom law, the emergency state since November 2015, the CSA (high council on audiovisual) to decide on journalistic ethics. "Our politicians always give the wrong answers to good questions and they want to transform journalists to PR people in order to avoid future leaks like Panama papers", she said.

In Germany, "there is no direct self-censorship" according to Wolfgang Grebenhof, vice-president of the Deutscher Journalisten -Verband , DVJ (German Association of Journalists) but he believes that "the biggest threats to media freedom are publishers and media companies. There is a lack of (wo)man power. There are less and less people working and less and less money to do good journalism. We are thus losing the priority of writing quality stories  and this can lead to self-censorship" he said. "Journalists' role is not only collecting the information but also selecting the information based on ethical and professional standards, and this needs time", said Grebenhof. 

Former EU correspondent Jànos Kàrpàti reminded how serious the situation is in Hungary. He explained how he got sacked from the Hungarian news agency MTI: "The Public Broadcasting Service has become very centralised after 2010 and its new role is to repeat the government's message, not to look after the public's interest. Hungarian Prime Minister Viktor Orban had a hearing at the European Parliament in Strasbourg about the issue of death penalty. During the press conference, I asked him a question without consulting my bosses beforehand, it was about Fidesz's opinion in the EPP Group. Since then, I was banned from attending Orban's press conferences. Later, I was told to go home because I was fired. Loyalty to the boss, not media professionalism, is the most important asset to stay in your position and the government is willing to portray itself as freedom fighter against bad people working for the EU in Brussels".
After the journalists' testimonies, Tanja Porcnik, President of the Visio Institute in Ljubljana (Slovenia), put things into perspective by presenting the results of the Human Freedom Index. It measures, among others, the freedom of expression including press killings, laws and regulations that influence media content, political pressure, freedom of access to foreign information and state control over internet access. "The trend is showing a clear deterioration", she said based on scientific researches.
Finally, the speakers called for more international solidarity and more resources to do quality journalism. "Showing interest to others problems can really change people's live and make them feel they are not alone", said a speaker.
Photo Credit : Mehmet Koksal / EFJ