Belarus: journalists demonstrate; police make new arrests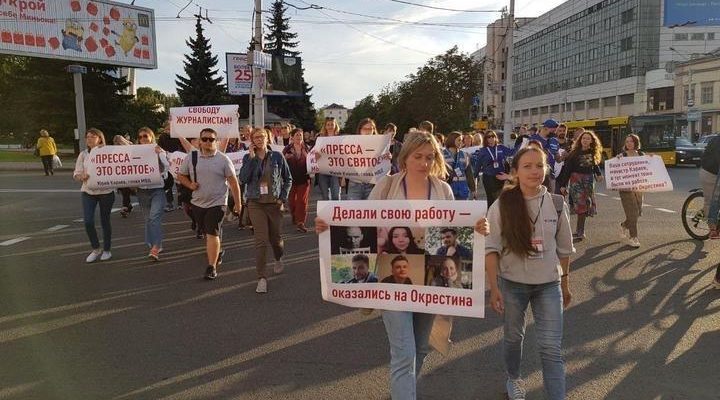 Picture credit: TUT.BY (via BAJ).
For the first time since the fraudulent elections in Belarus, journalists demonstrated in front of the Interior Ministry in Minsk. They were protesting against the prolonged detention of six journalists. Police also arrested journalist Larysa Shchyrakova in Homiel and journalist Dzmitry Brushko in Minsk on Thursday. The European Federation of Journalists (EFJ) and the Belarusian Association of Journalists (BAJ) demand the immediate release of journalists in detention in Belarus.
A group of about 80 journalists organised a demonstration on Thursday in front of the Ministry of Interior in Minsk. They were protesting against the continued detention of six journalists who were arrested on 1 September in Minsk: Nadezhda Kalinina (TUT.BY), Alexei Sudnikov (TUT.BY), Andrei Shevlyuga (BelaPAN), Maria Elyashevich (Komsomolskaya Pravda), Svyatoslav Zorki (Komsomolskaya Pravda), Nikita Nedoverkov (Komsomolskaya Pravda).
The cases of these six detained journalists were sent for revision. The journalists were left in solitary confinement.
After organising a picket near the building of the Ministry of Interior, the journalists formed a chain on Ramanauskaya Sloboda Street. Then they went to the Ministry of Information.
Two other journalists were arrested on Thursday:
Dzmitry Brushko (TUT.BY), who was accused of hooliganism, in Minsk before being released.
Larysa Shchyrakova (freelancer), who has been taken to Homiel pre-trial detention center. The authorities accused her of alleged participation in unauthorized protest actions.
"Following the mass arrests of journalists, the Belarusian authorities are stepping up the pressure by prosecuting these journalists for alleged participation in, or even coordination of, illegal demonstrations," said EFJ General Secretary Ricardo Gutiérrez. "We call on the European Union and the OSCE to intervene urgently to put an end to this relentless pressure, which is just aimed at building a wall of silence over Belarus."