Kosovo: Several journalists attacked during riots in Mitrovica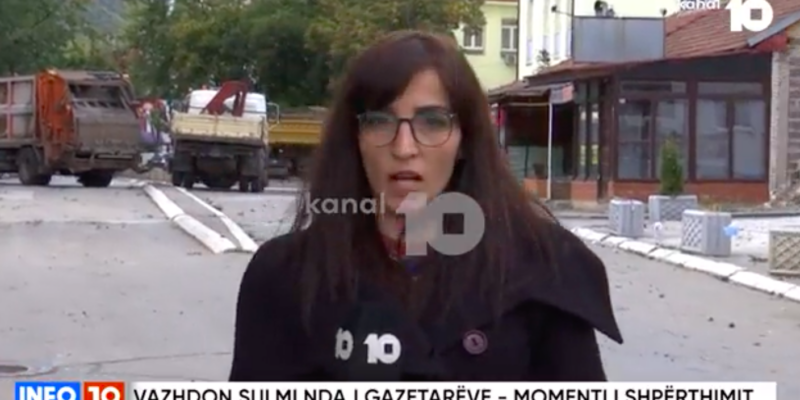 Credit: screenshot
Tensions increased in the Northern part of Kosovo after police undertook an anti-smuggling operation in Mitrovica on 13 October. Several journalists covering the riots, as well as citizens and police officers, were attacked by protesters. The European Federation of Journalists (EFJ) joined its affiliates in Kosovo AGK in condemning all violent attacks against journalists and calling on the authorities to ensure their protection.
During the clashes, journalists from the local Kosovo Serb language media, KoSSev, reported threats and attacks against them, after which they decided to remove the journalists from the field. In particular, Ivan Mitic was approached by protesters on several occasions and prevented from filming events on the street under the threat that they would erase the footage and confiscate his phone.
Other journalists working for T7, Klan Kosova, RTV Dukagjini, ATV, Kanal 10 and BIRN were attacked and obstructed while performing their duties. The BIRN team reported that they were chased by protesters and had Molotov cocktails thrown at them. A video of a Kanal 10 live broadcast shows an explosive device thrown a few meters away from the journalist.
According to media reports, several journalists of different Albanian media were also targeted in North Mitrovica. It was also reported that  protesters chased journalists with cars.
Xhemajl Rexha, president of the Board of the Association of Journalists of Kosovo, said that "AJK is alarmed with what our colleagues had to go through today".
He added: "Reporting from riots and tensions in the north of Kosovo is always difficult, but today journalists and media operators from both Albanian and Serbian language media were attacked and pressured by local protesters. As their lives were put in danger during the time of reporting, we called urgently on Kosovo Police to protect them. AJK is in close contact with authorities to ensure a safe environment for journalists to do their work."
Our colleagues are under attack in north #Kosovo. We urge #Kosovo Police to protect them and call on @EFJEUROPE for solidarity and condemnation. @AGK_AJK pic.twitter.com/l5XHzvqDrB

— Xhemajl Rexha (@xhemajl_rexha) October 13, 2021
EFJ General Secretary Ricardo Gutiérrez said: "Journalists must be able to report from the field to provide citizens with reliable and accurate information on these events. It is disturbing to learn that some journalists had to leave because they were targeted and feared for their safety. We urge the authorities to do everything possible to allow media professionals to report safely as close to the events as possible."