Turkey : EU to prioritise media freedom reforms and human rights in relations with Turkey, ask journalists' groups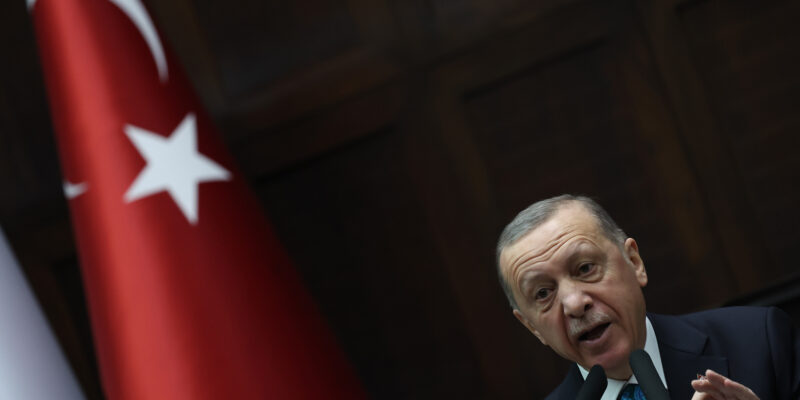 Credits: Adem Altan / AFP.
The undersigned organisations call on the incoming Spanish Presidency of the Council of the European Union to place media freedom and human rights front and centre of relations with the newly re-elected Government of Turkey.
The May elections, which saw a parliamentary majority for the AKP and its allies and the re-election of Recep Tayyip Erdoğan as President, took place against a backdrop of a media landscape dominated by pro-government outlets, the smothering of independent voices and the repression of critical journalism.
Over the past two decades, Turkey's government has captured over 90% of the media landscape, including direct control over the country's public media and indirect control over much of the mainstream media through party-aligned oligarchs. It has abused the power of state advertising to create compliant journalism and weaponized the broadcast regulator, RTÜK, to routinely target broadcasters with financial penalties for critical news reporting.
The capture of mainstream media has been backed by a mass crackdown on independent media, including the arrests and prosecutions of thousands of journalists in the years since the failed coup of 2016. As the country went to the polls on May 14, at least 47 journalists were imprisoned in Turkey, including 31 Kurdish journalists arrested since June 2022 alone.
Journalists face physical assaults, troll attacks by politicians and their supporters, and smear campaigns from government-aligned media. The police routinely arrest journalists at demonstrations and prevent them from reporting. According to the Mapping Media Freedom database, which documents media freedom violations across EU member states and candidate countries, since July 2022, 173 alerts, almost one in five of the total, have been located in Turkey.
More recently, the government has stepped up efforts to block and censor online content through the 2022 amendments to the disinformation law. The law, among other things, provides for up to three years imprisonment for 'disinformation or fake news' that threatens national security, public order and public morals. It also requires social media platforms to comply with content blocking requests or face the throttling of their bandwidth by up to 90% and six-month advertising bans.
Moreover, the vague definition of 'disinformation' empowers an already notoriously compromised judiciary to misuse the law to punish political opponents.
Meanwhile, studies have shown that algorithmic bias, already in place, channels over 80% of news searchers on Google to pro-government media forcing independent media to exist in a restricted news bubble.
Combined, these tactics create a hostile economic and judicial environment designed to silence independent journalism, denying the public access to a diverse range of news and information and seriously damaging Turkey's democracy. As a consequence, Turkey's recent elections were assessed as free, but not fair by the OSCE.
Since the elections, numerous journalists have been assaulted and independent broadcasters were issued fines by RTÜK. The broadcaster HaberTürk has stopped publishing political columns on its website, and parted ways with one of the most well-known TV journalists who had been critically covering the current news. And on June 27, Merdan Yanardağ, Editor in Chief of TELE 1 broadcaster was arrested. The election results do not bode well for media freedom and fundamental rights more broadly in Turkey.
As the European Union assesses the results of the elections, we urge European governments and policy makers to ensure that the improvement of media freedoms and fundamental rights are placed at the heart of future relations with Turkey. Failure to do so would be a betrayal both of the Turkish public and of the European Union's values.
Signed
International Press Institute (IPI)
Articolo 21
Association of Journalists in Ankara (GC)
Coalition For Women In Journalism (CFWIJ)
Committee to Protect Journalists (CPJ)
Danish PEN
European Centre for Press and Media Freedom (ECPMF)
European Federation of Journalists (EFJ)
Freedom House
International Federation of Journalists (IFJ)
Media and Law Studies Association (MLSA)
OBC Transeuropa (OBCT)
PEN International
PEN America
PEN Canada
PEN Norway
Platform for Independent Journalism (P24)
Reporters Without Borders (RSF)
South East Europe Media Organisation (SEEMO)
Turkey Human Rights Litigation Support Project (TLSP)