Northern Cyprus: the EFJ and IFJ demand the withdrawal of charges against the President of journalists' union Basin-Sen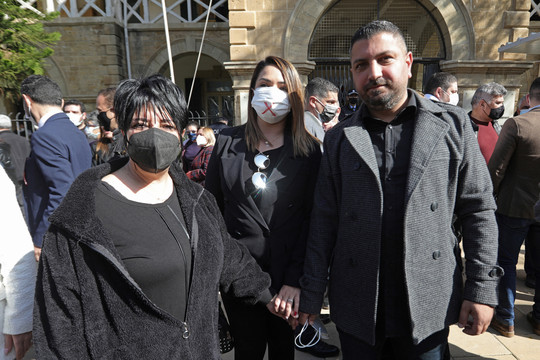 Ali Kişmir and his mother Fatma outside the supreme court in the northern part of Cyprus' divided capital Nicosia, 28 February 2022. Credit: Birol Bebek / AFP
Ali Kişmir, the President of the Cyprus Turkish Journalists' Union (Basin-Sen), an affiliate of the European and International Federations of Journalists (EFJ-IFJ), will stand trial on 6 October for an article published in 2020. Kişmir faces a ten-year prison sentence for "insulting and mocking" the security forces. The federations call for the charges against him to be dropped and urge the authorities to safeguard freedom of expression which is a cornerstone of democracy.
In an opinion article published in 2020, the journalist described the state of his country's politics as a "brothel". Three years later, he will be tried for "insulting and mocking the security forces" in a court in Northern Cyprus, a territory that has only been internationally recognised by Türkiye.
"The biggest danger is that the judicial proceedings I am facing can set a dangerous precedent for all journalists," states Basin-Sen President. "My case was filed with a request for a heavy penalty and imprisonment. It is the first of this kind in our history. If it results in a conviction, it will open the door to prison sentences for journalists or any individual who dares to express his or her opinion."
Kişmir's journalistic work has been subjected to censorship and he has been targeted by the authorities several times. Around the time of the presidential elections in the Turkish Republic of Northern Cyprus in 2020, Turkish government officials threatened the journalist, calling him "an enemy of Türkiye" and a "traitor".
"It was purely because of my views and description of Turkey's position in Cyprus as an 'occupier'," notes Basin-Sen President. "In recent years, the number of lawsuits against journalists has increased in our country. I am extremely worried about the climate of fear that Turkish Cypriot media is subjected to."
In June 2023, Kişmir was forced to resign from the online channel TV20 due to political pressure, following the publication of an article critical of Turkish Cypriot leader Ersin Tatar that was later censored and removed from the website. IFJ General Secretary Anthony Bellanger and EFJ General Secretary, Ricardo Gutiérrez expressed their full solidarity with Ali Kişmir. "Together with the members of Basin-Sen, we call for the withdrawal of baseless and disproportionate charges against our colleague Ali Kişmir. Prosecuting journalists to silence them is an act carried out by authoritarian regimes. We urge the authorities to stop bringing criminal prosecutions against critical journalists and remind them of their obligations towards freedom of expression.