European and Russian journalists to discuss coverage of EU affairs and portrayal of Russia in media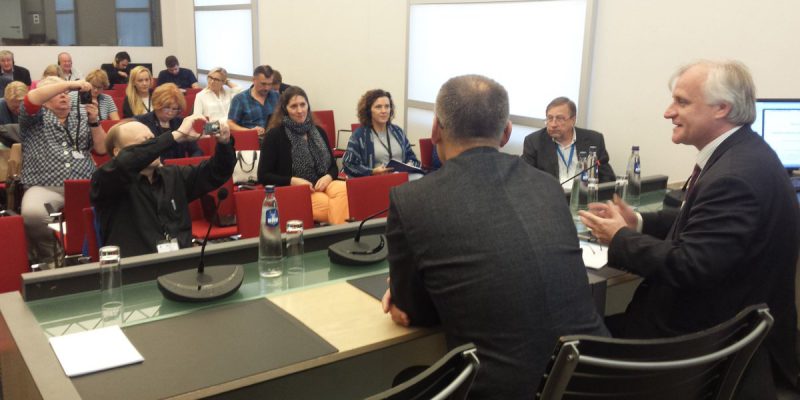 A group of Russian journalists and editors are meeting their European Union counterparts in Brussels on the 15th and 16th September for a seminar entitled "Journalistic standards in reporting the EU and the portrayal of Russia: against stereotypes in the media". The European Federation of Journalists (EFJ), in association with its affiliate the Russian Union of Journalists (RUJ), will host this two-day event in the Residence Palace. The meeting is part of an initiative spearheaded and funded by the EU Delegation to the Russian Federation.
The seminar will draw on the expertise available in Brussels in the area of professional reporting of the EU affairs for diverse audiences. Russian and EU guests will speak about their perception how both sides are presented in mass-media in the current political climate. The EJF will provide a panel discussion session on the state of journalism across the EU and Russia. On Friday, 16 September, Brussels correspondents for major media outlets in Europe will deliver workshops on engaging and professional coverage of the EU business and institutions. Please find the draft programme here.
The Brussels event is the third in a series of meetings organised by the EU Delegation in Moscow in the framework of a project for 2016 to promote dialogue between journalistic communities and to foster better mutual understanding of the EU and Russia. The first such meeting held in London in April this year was devoted to the safety of journalists in digital age, while the second took place in St Petersburg in early July focusing on contemporary threats to independent journalism. The final meeting is scheduled to be held in Moscow in mid-December and will look at digital transition and media convergence in the context of regional journalism.
(Credit photo: Ricardo Gutiérrez)