Turkey: Court acquits 12 journalists in OdaTV case after six-year trial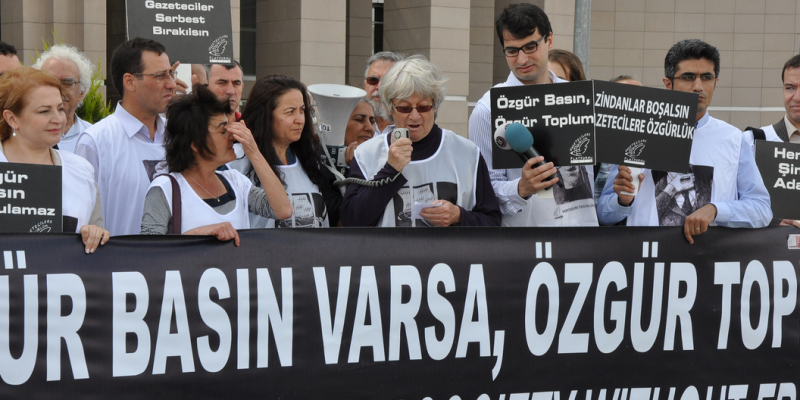 The European and International Federation of Journalists (EFJ/IFJ) welcome the acquittal of all defendants in the Oda TV case, including Ahmet Şık and 11 other journalists, charged with terrorism, incitement, and obtaining secret documents.
On 12 April 2017, after a six-year trial, the Istanbul's 18th Court for Serious Crimes found that prosecutors had failed to provide enough evidence to convict journalists Ahmet Şık, Soner Yalçın, Barış Pehlivan, Barış Terkoğlu, Ayhan Bozkurt, Nedim Şener, Müyesser Yıldız, Doğan Yurdakul, Coşkun Musluk, Sait Çakır, Yalçın Küçük, İklim Bayraktar and former police chief Hanefi Avcı.
Following the acquittal, Ahmet Şık – who is currently in pre-trial detention in another case on charges of "making propaganda" for the Kurdistan Workers' Party (PKK) and the FETÖ organisation (Gülen movement) – declared: "This decision should make an example for the prosecutors and judges who drafted and approved the bill of indictment in the trial of Cumhuriyet daily. We will create a life in which we will make the dreams of our children come true. This rulership of mafia, this organised state of evil will get what it deserves. It will experience the inevitable…"
The EFJ, the IFJ and their affiliates in Turkey have been monitoring the OdaTV case which began in 2011, when journalists were accused of being members of a secret illegal organisation trying to overthrow the government, known as "Ergenekon". The trial has been running for 6 years, despite the overwhelming evidence of the defendants' innocence. During the course of the investigation, some prosecutors and judges were either in jail or had fled the country for allegedly being themselves members or supporters of an illegal terrorist organisation after the failed July 2016 coup.
The EFJ and the IFJ continue to call on the Turkish authorities to release all the journalists detained for simply doing their job and to end the prosecution against journalists, academics, lawyers and judges in Turkey.
Credit photo: IFJ / photo taken in June 2013 – Journalists and union representatives gathered in front of the Justice Palace in Istanbul during the OdaTV trial.