More democracy at Work!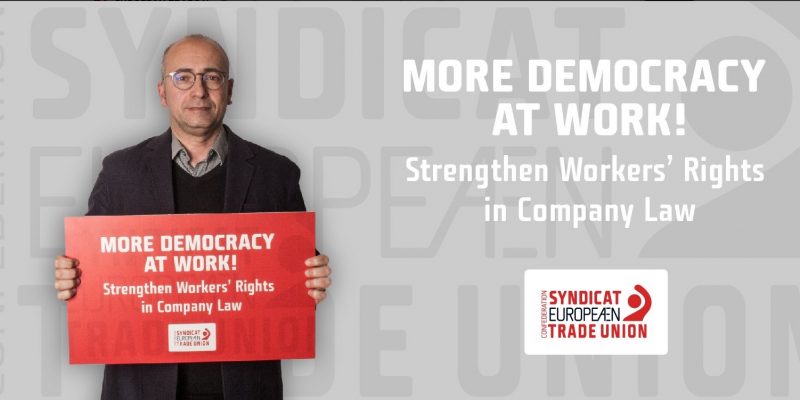 The EFJ General Secretary Ricardo Gutiérrez and trade union leaders from all over Europe today united in their demand for more workers' participation and workplace democracy.
They are calling on
MEPs to improve the EU company law package currently going through the European Parliament to strengthen workers' information, consultation and board-level representation in the new types of companies allowed by this legislation;
MEPs to strengthen information to and consultation and representation of workers in the Draft Directive on restructuring and insolvency also going through the Parliament;
the European Commission to publish its long-overdue revision of the European Works Council Directive to improve the number and effectiveness of Works Councils;
the next European Commission to propose a new Directive to set new and high standards on information and consultation, and workers' board level representation in European company forms.
The European Trade Union Confederation (ETUC) recently handed over to MEPs an Appeal for 'More Democracy at Work' signed by over 900 prominent individuals including Thomas Piketty, former Prime Ministers Enrico Letta and Poul Nyrup Rasmussen, Daniel Cohn-Bendit, and many MEPs, academics and trade union leaders.
"Democracy cannot end at the workplace" said Peter Scherrrer, ETUC Deputy General Secretary. "More democracy at work is good for workers and management – it improves working life and contributes to economic success, employment stability and good corporate governance."
"Despite all that, the EU has failed to do anything about improving workers' participation for well over a decade. The EU needs to talk about – and improve – workplace democracy."
For more info on the:
Picture credit: ETUC.