Spain: Journalist assaulted while reporting live on TV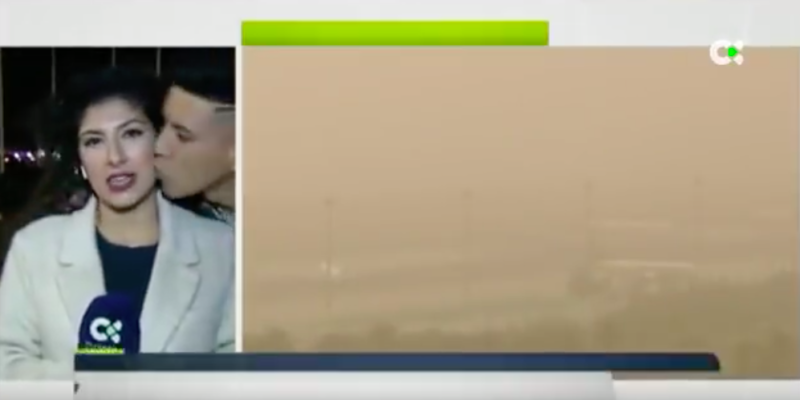 Credit: RTVC
UPDATE (26.02.2020): The perpetrator has been sentenced on Tuesday 25 February 2020 during an immediate appearance procedure in Arrecife to a fine of 2,410 euros. A restraining order has also been issued for 16 months banning him from approaching the journalist at a distance of less than 300 meters. The man admitted the facts. He has been accused of the crime of sexual abuse and of the slight crime of injury. He must pay compensation for civil liability.
The European Federation of Journalists (EFJ) joined its Spanish affiliate FAPE and its member the Asociación de la Prensa de Tenerife (APT) in condemning the attack targeting a journalist working for the public service Radio Televisión Canaria (RTVC) while reporting live in Lanzarote.
On 22 February, Raquel Guillán, a journalist of RTVC was reporting live on the weather effects in the Canary Islands when, suddenly, a man approached her and kissed her on the cheek. APT reports that the journalist and her colleague were able to avoid a second aggression while trying to identify the perpetrator. One day after, the journalist reported the case to the police.
FAPE and APT declared in a statement that it is an intolerable behaviour, expressed their solidarity with the professionals who suffered this attack and hoped that it will not be repeated "to the detriment of the informational integrity carried out by duly accredited professionals and much less when it is done live".
Esto acaba de pasar en directo. Toda mi solidaridad para la periodista y las trabajadoras de @RTVCes
¡Estamos hartas! pic.twitter.com/tNb6MokmIv

— Sara Ramírez (@Sara_RamirezM) February 22, 2020
Raquel Guillán continued with the coverage despite what happened. The first to raise the alarm was Sara Ramírez, Counselor for Equality, Diversity and Transparency of Gran Canaria. Thousands of people, including journalists, joined her complaint to condemn the act of sexist harassment suffered by the reporter, to whom they have sent support and solidarity. RTVC posted a tweet expressing its support for their colleague and the "absolute rejection" for this conducts.
?@RTVCes quiere expresar su apoyo a @RaquelGuillan y su absoluto rechazo a los hechos ocurridos este sábado mientras desarrollaba su trabajo como redactora de los Servicios Informativos de Televisión Canaria. pic.twitter.com/4x7ch1z5yB

— RTVC (@RTVCes) February 22, 2020