Russia: Chechen president threatens journalist Elena Milashina with death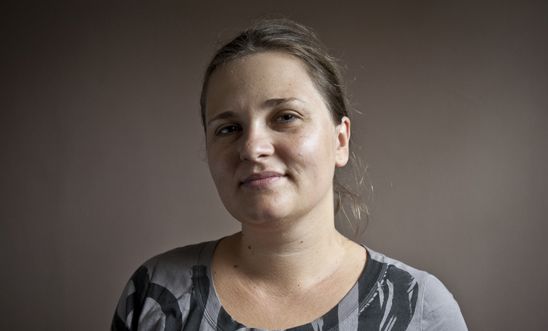 Picture credit: Jorn van Eck / Amnesty International.
Chechen president Ramzan Kadyrov has directed death threats at Russian journalist Elena Milashina for reporting about human rights violations in Chechnya under the pretext of combating the COVID-19 pandemic. The International and the European Federation of Journalists (IFJ and EFJ) join their affiliate the Russian Union of Journalists (RUJ) in expressing solidarity with Elena Milashina and calling on the Chechen leader to let journalists report freely during the COVID19 pandemic.
On 12 April, Elena Milashina, an award- winning journalist for Russian newspaper Novaya Gazeta, published an article describing how the Chechen Governor had responded to the pandemic. She explained that quarantined Chechens had stopped reporting coronavirus symptoms for fear of being labeled "terrorists."
In a speech held on 13 April, Kadyrov accused Milashina of writing "nonsense" and blamed the Federal Security Service for not silencing her, according to a transcript of his remarks published by Novaya Gazeta. Kadyrov also commented on the article in his Telegram account, as well as posting a video on Instagram accusing Novaya Gazeta and its journalist of being a puppet of the West.
In the video, Kadyrov states, among other things: "I've had enough! If you [the security services] want us to commit a crime and become a criminal, tell us! One of us will assume responsibility (…) He will spend some time in prison but will at some point be released. Don't try to make us criminals, murderers…".
On 15 April the Russian Federal Service for Supervision of Communications (Roskomnadzor) forced Novaya Gazeta to retract Elena Milashina's reports following accusations of "inaccurate information" and for causing "a threat to public safety". The Chief Editor of Novaya Gazeta, Dmitry Muratov, expressed his concerns about this decision and a wave of attacks and threats against Elena Milashina in a conversation published by Meduza news, a Latvian online publication.
It is not the first time Elena Milashina receives threats. On 6 February 2020, Elena Milashina and lawyer Marina Dubrovina were attacked and beaten by an organized mob in a hotel in Chechnya's capital Grozny. Investigation into this attack has been halted after technical evidence including CCTV information had "disappeared". No one has so far been held responsible for the attack.
Elena Milashina has been reporting on Chechnya's breach of human rights for several years. In an interview with the IFJ in May 2019, she said: "I write mostly on human rights-related topics in Chechnya: illegal detention, torture, killings… Chechens are Russian citizens and formally they all have rights guaranteed by the Constitution. But everyone who lives in Chechnya can be kidnapped or killed with impunity".
In May 2019 she received the honoris causa doctor title awarded by Brussels University to mark World Press Freedom Day. In October 2009, she was awarded Human Rights Watch's Alison Des Forges Award for Extraordinary Activism and in line with her investigative work, she was the first journalist to shed light on anti-gay purges in Chechnya in April 2017.
RUJ President, Vladimir Soloviev, with the support of Human Rights Council, journalists and activists sent a request on 17 April to the Russian Prosecutor General's Office asking for the reason and the basis for removing the journalist's story from the newspaper's website to ascertain if the constitutional rights of journalists and the media have been violated. Censorship is prohibited by the Russian Constitution.
The RUJ said: "We took emergency control and are monitoring the actions of all parties involved with one aim : stop any attempts to censor and violate of freedom of speech."
Moscow PEN Centre and the Free Word Association added their voices to the Russian Journalists' and Media Workers' Union (JMWU) in calling on Russian authorities to stop the persecution of Elena Milashena and Novaya Gazeta.
The IFJ and EFJ urge Roskomnadzor to review its decision and demand President Ramzan Kadyrov stop harassing the press and spreading hatred against media professionals and provide Elena Milashina with the protection she needs to enable her to do her job.
The IFJ and EFJ reported this case to the Council of Europe Platform for the Protection of Journalism.