Russian court sentences prominent journalist Sergey Smirnov to 25 days in jail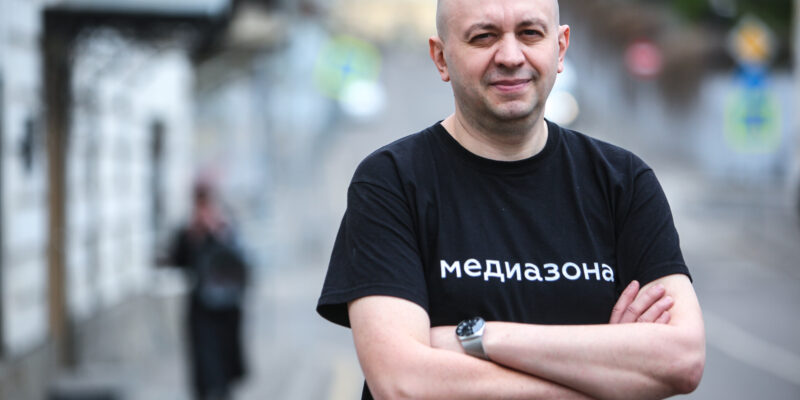 Picture credit: Mediazona.
On Wednesday 3 February, Moscow's Tverskoy District Court sentenced Mediazona editor-in-chief Sergey Smirnov to 25 days administrative arrest for retweeting a reference to an anti-Kremlin protest. The European Federation of Journalists (EFJ) condemns this abusive and disproportionate sentence and supports the appeal filed by the journalist's lawyer, Fyodor Shirosh, from the human rights organization Apologia Protesta.
Police officers in Moscow arrested Smirnov outside his home on Saturday 30 January, while he was on a walk with his young son. Smirnov spent several hours in police custody before being allowed to return home to his family pending trial.
Smirnov was accused of repeatedly violating the rules for holding public events (Russian Administrative Code). These charges came in response to a post he made on social media on 20 January. The tweet included a picture that contained the time and date of a rally in support of jailed opposition figure Alexey Navalny.
According to the police, Smirnov's retweet constituted a call to "an unlimited number of participants to take part in the unauthorized rally on January 23," writes Mediazona. "That said, the picture didn't actually contain any calls for protests, nor did it include the planned location of the demonstration," commented Meduza.
Smirnov said he was simply retweeting a joke and was not calling on people to come to the rally, which he said he did not attend. "A retweet does not equal endorsement," Mr. Smirnov told the judge at his hearing on Wednesday.
Following Smirnov's arrest on 30 January, more than 30 media outlets expressed their support for Sergey Smirnov.
"The court's sentence is not only excessive," said EFJ General Secretary Ricardo Gutiérrez. "It is also totally ridiculous. 25 days in jail for retweeting a tweet! This punishment demonstrates the determination of the Russian authorities to silence any independent voice at a time when mass demonstrations are denouncing abuses of power."