EFJ Webinar: Countering political interference in the media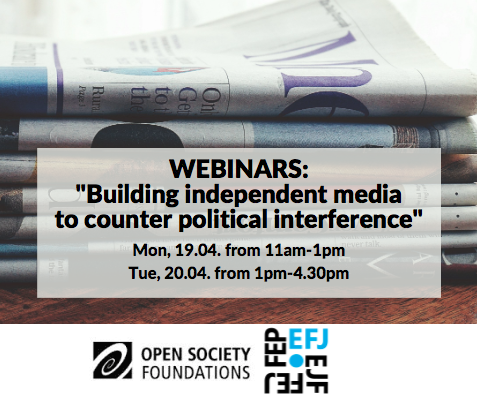 On 19 and 20 April, the European Federation of Journalists (EFJ) will be hosting a series of two webinars as part of the project "Building independent media to counter political interference" funded by Open Society Foundations. With a great line-up of members of the European Parliament dealing with media freedom, the European Commission, the Center for Media Pluralism and Freedom, the OSCE and experts like Dr. Vaclav Stetka and Elda Brogi as well as journalists' organisation leaders speaking from their field experience and showcasing campaigns and resilience, these two mid-day webinars, free and open to all upon registration, shall allow for in-depth discussions and constructive suggestions for action and policy in times of crisis.
Stetka will give new insights into the project "Illiberal Turn" and a first-ever systematic, comparative study of news consumption and political polarisation in Central and Eastern Europe, at a key point in time when the region is undergoing dramatic changes. Marc Gruber will outline the findings of his research done among EFJ affiliates giving examples of campaigns and best practice  and proposing recommendations to be discussed by large.
Have a look at the agenda and feel free to register at the link below.
You may register to join the webinars on Day 1 here and on Day 2 here. For more information on the speakers, you can find a collection of their short biographies here.
Monday, 19 April 2021
11:00 – 11:40: "Why does media independence matter to us?"
Anna Donath, MEP, Hungary 
Ramona Strugariu, MEP, Romania
Yana Toom, Estonia, MEP, Estonia 
Moderator: Renate Schroeder, EFJ Director 
11:40 – 12:55: "The status of media independence in Europe: An illiberal turn?"
Dr Vaclav Stetka, Loughborough University, UK
Marc Gruber, Researcher and Media Consultant 
Moderator: Maja Sever, President, Croatian Trade Union of Journalists (TUCJ) 
12:55 – 1:00: Wrap up – End of Day 1
Tuesday, 20 April 2021
13:00 – 13:05: Welcoming and introduction
13:05 – 14:00: Case studies
"Building independent media to counter political interference in in challenging regimes": Belarus, Turkey and Ukraine
Introduction and Moderation: Andrei Richter, Senior Adviser at OSCE
NN, Journalists' Association of Belarus (BAJ)
Mustafa Kuleli, Journalists' Union of Turkey (TGS)
Sergiy Tomilenko, National Union of Journalists of Ukraine (NUJU)
14:00 – 15:55: In EU and applicant countries: Austria, Macedonia and Spain
Gregor Kucera, Austria (GPA)
Marina Tuneva, North Macedonia, Press Council
Joan Barata Spain (PDLI)
Moderator: Ricardo Gutierrez, EFJ General Secretary 
16:00 – 16:30: "EU policies and instruments to ensure media independence"
Elda Brogi, Centre for Media Pluralism and Freedom
Roberta Carlini, Centre for Media Pluralism and Freedom
Marie Frenay, media pluralism and media freedom within EC cabinet of Vice-President Věra Jourová
Mogens Blicher Bjerregård, President, EFJ
The "Building independent media to counter political interference" project is funded by the Open Society Foundations (OSF).