Ukraine: Prosecutors and police deliver public update on investigation into murder of journalist Vadym Komarov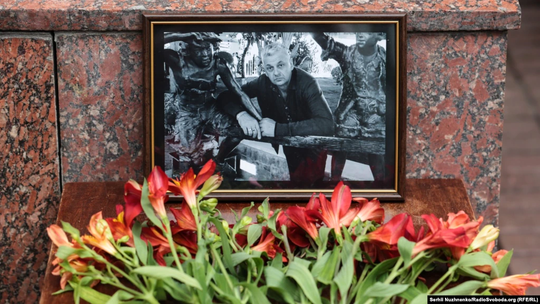 Credit: National Union of Journalists of Ukraine
The European and International Federations of Journalists (EFJ/IFJ) has called on the Ukrainian authorities to continue to pursue the killers of Cherkasy journalist Vadym Komarov, two years after his death following a brutal attack.
The call came as the head of the Cherkasy Regional Prosecutor's Office Oleksandr Voronin and deputy head of the Cherkasy police Yevhen Rohachov updated reporters at a press conference about the progress of the investigation.
During these 2 years, more than 1,700 interrogations and more than 200 investigative leads have been followed. Data from hundreds of cameras and more than 1000 phone calls have been analysed.
The investigation is still ongoing. An identikit of the alleged perpetrator was created but the identities of the perpetrators and masterminds of the murder are still unknown.
This was the first large public report on this case and came in response to the initiative of the leadership of the National Union of Journalists of Ukraine (NUJU) and the Prosecutor General of Ukraine Iryna Venediktova. Last week, the Prosecutor General held a special meeting with NUJU representatives, at which she personally heard a report on the investigation into the murder of a journalist and instructed the authorities to deliver a public report to journalists in the region where Vadym Komarov lived and worked.
The President of the National Union of Journalists of Ukraine Sergiy Tomilenko said: "Unfortunately, in Ukraine we still record a high level of aggression against journalists. One of the powerful mechanisms of struggle is public reports of law enforcement agencies and public control. In recent years, NUJU has managed to combine the efforts of the Minister of the Interior, the Prosecutor General, and the Chief of National Police to make the journalistic profession in Ukraine safer".
IFJ General Secretary Anthony Bellanger said: "We welcome the fact that the authorities are continuing to pursue this case and have carried out extensive investigations but remain concerned that the killers have still not been identified. The authorities must continue to pursue this case with vigour to ensure there can be no impunity".
Ukrainian journalist Vadym Komarov died on 20 June 20 2019, after he was the victim of a brutal attack in May. Mr. Komarov was known for his investigations and his hard-hitting reporting on local authorities. The IFJ/EFJ has been monitoring this incident since the attack.