Finland: three journalists face jail term for allegedly "disclosing state secrets"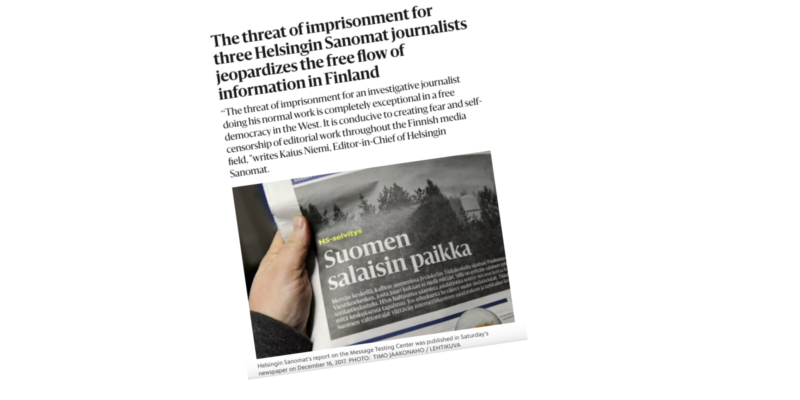 Credit: screenshot Helsingin Sanomat website
Three journalists from Finland's largest national daily Helsingin Sanomat were charged on 29 October 2021 with "attempted disclosure of a security secret" and face jail term. The European Federation of Journalists (EFJ) joined its affiliates in Finland, the Finnish Journalists' Union (UJF), in expressing solidarity with the journalists and condemning Finland's deputy prosecutor general's decision to prosecute them.
Laura Halminen, Tuomo Pietiläinen and Kalle Silfverberg face four months to four years in prison for publishing in December 2017 an article about the Finnish Defence Intelligence Agency (VKoeL), at a time when a constitutional change gave the Finnish security services increased surveillance powers.
Following publication of the story, authorities opened an investigation into the newspaper for allegedly disclosing "state secrets" that would endanger national security. On 17 December 2017, police raided the apartment of Laura Halminen, seizing her computer as well as flash drives.
Pre-trial investigation found out that the editorial team did not obtain information through illegal means. According to Helsingin Sanomat, all information made public was available in public sources.
Following a four-year investigation, Finland's prosecutor decided to prosecute three of the five journalists involved and to hold most of the trial – whose date is not yet known – behind closed doors.
In an editorial, Helsingin Sanomat editor-in-chief Kaius Niemi warned that the threat of imprisonment for investigative journalists is "conducive to creating fear and self-censorship" throughout the Finnish media field.
"This is unique in the history of Finland and even highly exceptional in Western democracies," said UJF president Hanne Aho. "The prosecutor has so far been very tight-lipped in explaining the grounds for the charges. This is a matter of such international importance for freedom of expression that the trial must be public. This will also allow the journalists to prove their innocence not only to the court but to the public", added Aho.
EFJ President Mogens Blicher Bjerregard said: "Journalists should be rewarded, not prosecuted, for doing investigative journalism for citizens, in the public interest. It is shocking to see now that Finland attacks press freedom and thereby sends a wrong signal to all Finnish journalists doing investigation."
This statement by EFJ is part of the Media Freedom Rapid Response (MFRR), a Europe-wide mechanism which tracks, monitors and responds to violations of press and media freedom in EU Member States and Candidate Countries.