France: Four journalists shot at in Martinique, no injuries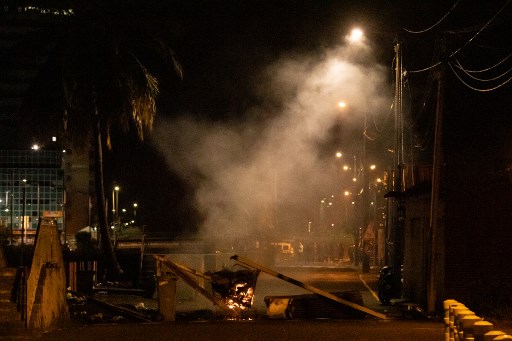 Credit: LOIC VENANCE / AFP
Four French journalists covering the protests against the Covid-19 rules and civil unrest in Martinique have been fired upon three times. The European Federation of Journalists (EFJ) joined its affiliates in France (SNJ, SNJ-CGT, CFDT-Journalistes) in expressing full support to the targeted journalists and strongly condemning a new attack on press freedom, which must be promptly investigated by the French authorities.
On the night of the 25 and 26 November 2021, photographer Loïc Venance from Agence France-Presse (AFP), journalists Maureen Lehoux and cameraman Julien Taureau from BFMTV/RMC Sport and journalist Raphaël Lafargue from Abaca Press were filming and taking pictures of a burning roadblock from a quiet street near the Levassor canal in Fort-de-France. The street was at the time deserted when two men on motorbikes drove by and started firing at them. No bullets hit them and they managed to flee the scene quickly, going for cover in their vehicle parked nearby and drove away.
Authorities on the Caribbean island of Martinique ordered a curfew yesterday after protesters looted stores and burned barricades amid strong protests over Covid-19 measures in the French overseas territories. A general strike started five days ago, notably against the compulsory vaccination of health workers. It is reported that seven policemen have been injured last night in Fort-de-France.
EFJ General Secretary Ricardo Gutiérrez said: "The civil unrest in Martinique reflects a complex situation that is exacerbated by the virus and all that it entails, so it is crucial that journalists be able to do their work freely and safely in order to best inform the public and the rest of the world about what is happening there. We give them all our support. We have taken the matter to the Platform for the protection of journalists of the Council of Europe."
Nous condamnons fermement ces attaques contre des travailleurs de l'information et saisissons immédiatement nos instances européennes. @EFJEUROPE @CoEMediaFreedom
Tout notre soutien aux collègues journaliste et technicien de @BFMTV @RMCinfo cc @sdj_rmc_bfm @rmcengreve https://t.co/sNZnZGBtWx

— SNJ-CGT (votez pour nous ! ✊🏽) (@SnjCgt) November 26, 2021
INCROYABLE, INADMISSIBLE ! Les mots manquent pour condamner ces actes 😡
S'en prendre aux #journalistes c'est attaquer la démocratie, mais apparemment ça ne choque plus grand monde… @EmmanuelMacron https://t.co/Ybb9fnMxSm

— SNJ – premier syndicat de journalistes (@SNJ_national) November 26, 2021
This statement by EFJ is part of the Media Freedom Rapid Response (MFRR), a Europe-wide mechanism which tracks, monitors and responds to violations of press and media freedom in EU Member States and Candidate Countries.