The International Federation of Journalists (IFJ) and the European Federation of Journalists (EFJ), today joined Ukraine's journalists in commemorating the 15th Anniversary of the murder of Ukraine investigative journalist Georgy Gongadze.
On 16 September 2000, Georgy Gongadze's body was left beheaded in the forest outside Kiev. He was killed as punishment for his exposures of government corruption and the case sparked worldwide condemnation and a global campaign for the prosecution of his killers. After years of investigations, four former officers of the SBU were eventually convicted of Gongadze's murder, but the people responsible for orderin
g it remain free.
"Today we remember Gongadze as a symbol of Ukraine journalism, assassinated for his courage and his professionalism, who continues to inspire journalists in Ukraine and abroad to maintain the fight for justice and freedom," said Jim Boumelha, IFJ President. "We therefore mark this day by calling on the authorities to live up to their commitments to building a democratic, accountable government by tackling the impunity that continues to exist for those who attack, intimidate or kill journalists."
Today, Ukraine's journalists led by IFJ/EFJ affiliates the National Union of Journalists of Ukraine (NUJU) and the Independent Media Trade Union of Ukraine (IMTUU) will be marking the anniversary by calling on the government to conduct proper investigations into the crimes against journalists.
NUJU, IMTUU, together with IMI, Telekritika and the Centre of United Actions will present a report on the violations against journalists to the Presidential Administration demanding that the government investigate all cases and prepare a report to be published by November 23rd, the International Day to End Impunity. A poster (on the right) stated "Arm with Truth" was produced to remind the public the important role of journalists to tell the truth.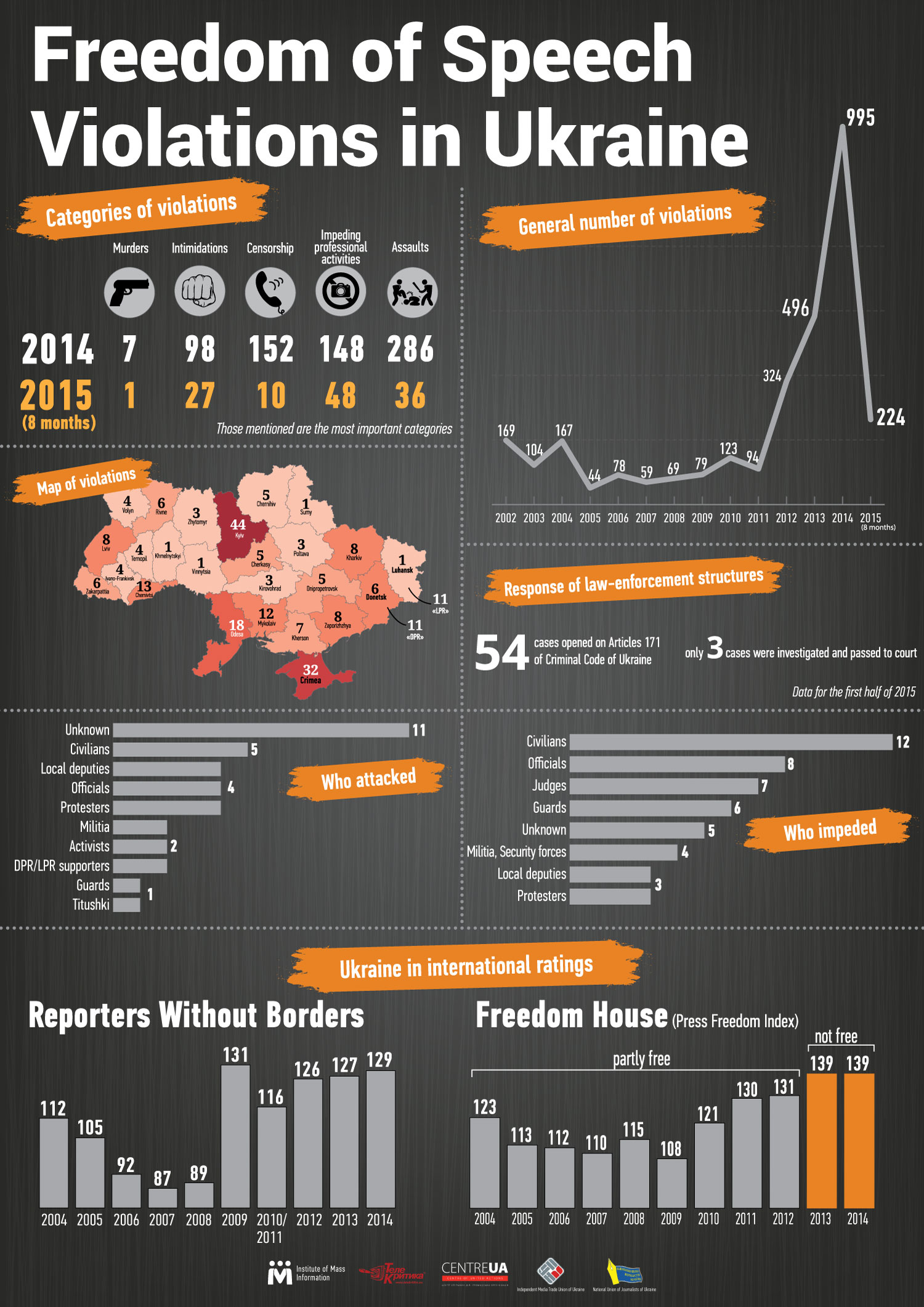 The report, which records incidents of violence over the last 20 months since the beginning of 2014, lists 8 killings, 125 intimidations, 322 assaults, 162 attempts of censorship and 196 cases of impeding journalists' professional activities. An infographics has been produced to illustrate the extent of violation of media freedom in Ukraine and the number of unsolved cases.
"This day we, journalists of Ukraine, expect from the country's leaders not ritual words about the mission of journalists and the laying of commemorative flowers, but real progress in the investigations of violent beatings and murders of journalists and the punishment of the guilty," said Sergiy Tomilenko Acting Chairman of NUJU.
The IFJ/EFJ further backed NUJU/IMTUU calls on the Ukraine journalists to unite together to protect their profession, their standards and their security.
"We must use our unity as strength to protect our colleagues and our profession against those that would control, intimidate and corrupt us," said Mogens Blicher Bjerregaard, EFJ President.
At 19.00 NUJU and IMTUU will lead a march to Kiev's Maidan before holding a minute of silence for all journalists who have lost their lives as a result of their work.