Cyprus: Turkish Cypriot journalist harassed by the Turkish government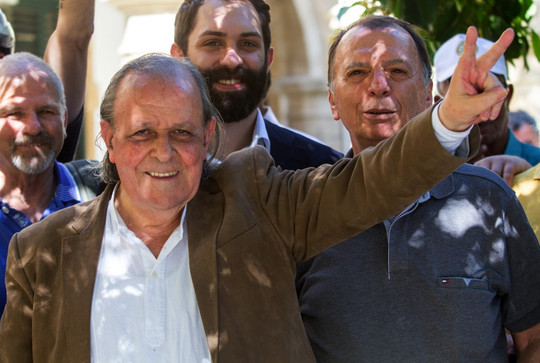 Sener Levent (left), editor of Turkish-language daily newspaper Afrika. Credits: Birol Bebek / AFP
Turkish Cypriot journalist and publisher Sener Levent is the target of a harassment campaign by the Turkish authorities for his critical reporting on the Turkish government policies in Cyprus. The European Federations of Journalists (EFJ) and the International Federation of Journalists (IFJ) join their affiliates, the Union of Cyprus Journalists and the Turkish Cypriot Trade Union of Press Workers Basin Sen in condemning the Turkish attempts to shut down press freedom.
Journalist Sener Levent, the editor-in-chief of Afrika newspaper, has been targeted by official and unofficial means by the Turkish government and faces numerous court proceedings because of his reporting.
The Turkish government is now demanding that Sener Levent's trial for three different articles in his newspaper be held in Ankara, Turkey. Ιf extradited, the journalist would face charges that could send him to prison for several years.
Turkey is the biggest jailer of journalists in the world, with 67 journalists are currently in prison for doing their job, according to the IFJ and EFJ Turkish affiliate TGS.
The Levent's case reveals that the Turkish government is also trying to extend media censorship and harassment beyond its borders. A Turkish court recently condemned journalist Can Dündar, who is exiled in Germany since 2016, to 27 years in prison over terrorism and espionage charges.
The IFJ and EFJ consider all these persecutions a flagrant violation of press freedom and freedom of expression and urge again the Turkish government to immediately stop the crackdown on media freedom.
IFJ General Secretary, Anthony Bellanger, said: "Sener Levent's extradition to Turkey must be prevented by all means as there's a huge risk that he will be prosecuted and condemned for his work as a journalist. We back the Union of Press Workers (Basin-Sen) and the Union of Cyprus' Journalists (ESK), and urge freedom of expression to be fully respected in the island."