Trust in Media Telework Webinar: Challenges, opportunities and the way forward
Credits: Canva
On 22 and 23 September, the European Federation of Journalists (EFJ) hosted a two-day webinar on "Trust in media: Telework during and after the Covid-19 pandemic". Distinguished speakers explored the challenges, opportunities and future of work in the journalism sector. In particular, the practice of hybrid working will be the trend. Media employers and journalists' organisations play an important role to help journalists transit smoothly to the new working environment while guaranteeing decent and fair working conditions for all.
The webinars were part of a cooperation between the Trust and quality in journalism project, co-funded by the European Commission (DG EMPL), and the Building Trust in Media in South East Europe and Turkey project, co-funded by UNESCO.
Below, a summary of the key takeaways.
With the Covid-19 pandemic, teleworking has become the norm for many media workers and the traditional way journalists work has been shaken. Impacted by the pandemic, we are slowly moving towards what experts call a "hybrid work week" where workers work partly from home and from the office. Setting clear guidelines to ensure a good workflow and employees' wellbeing in this new hybrid work environment is crucial. How can newsrooms, employees and freelancers adapt to this new normal and where can they find the resources and support to help them? 
The questions of workers' protection and financial coverage remain challenging. For journalists and media workers in the frontline during the pandemic, new difficulties have emerged, and a clear need to strengthen the legislative framework around hybrid working in a lot of countries has been underlined by the pandemic. 
The main objective of the webinars is to promote good practices, exchange ideas surrounding the topic, and discuss the key issues and benefits of teleworking. The webinars also aimed to open the dialogue between journalists' unions, media organisations and media workers. Numerous surveys were presented to serve as a basis for understanding the needs and conditions of journalists across Europe. 
On the first day, the webinars were introduced by Adeline Hulin, Project officer at UNESCO, and Andrea Roth, Chair of the Labour Rights Expert Group. Hulin reminded of the important #EssentialWorkers campaign, because many journalists have been on the frontline during the pandemic, putting their health and security at risk. She also broached the subject of access to information, which has been altered due to the pandemic and working from home.
"Boundaries between personal and professional space are porous. The condition of freelance journalists must also be emphasised," Hulin said.
The first panel provided an overview of telework/home-office practices in the media. Marc Gruber, researcher and media expert, presented a summary of the findings of an extensive survey of EFJ members from 20 countries (to be published on 7 October on World Decent Work Day). "The future is definitely hybrid. Already the present is. Most journalists do not want to go back to the office full-time but they also do not want to stay at home 100%," Gruber highlighted. Laws regarding telework differ from country to country and there are no one-size-fits-all solutions. But it can be said in general that telework has to be voluntary, reversible, non-discriminatory and the right to disconnect should be universal.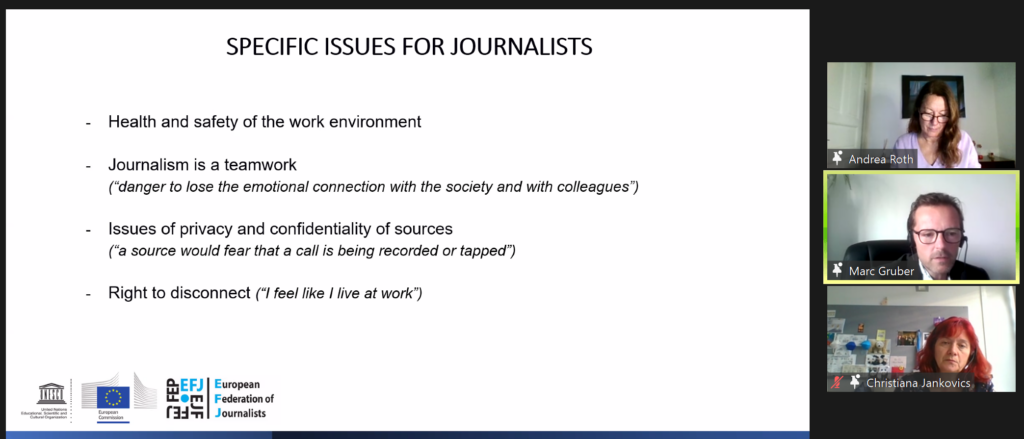 Christiana Jankovics, journalist at the Austrian Public Broadcaster (ORF) and board member of the union GPA, shared interesting findings of an ORF survey. Respondents said they want a provision of equipment and clear rules of how to work from home. Negative impacts include the lack of social contacts, insufficient involvement in decisions and that equipment does not have the same quality as the office equipment. Psycho-social stress, which stems from an imbalance between the workload and the reward, coupled with inadequate communication is at present high and particularly difficult for women with a family. A major challenge for unions and work councils is that it is harder to reach journalists and inform about their rights when working from home.
One big advantage of working from home, especially for younger journalists, is that it offers "more democratic access". For instance, they can conferences and meetings that would otherwise be more exclusive. However, the transfer of knowledge and offering of training is more difficult online. 
The second panel focused on how to achieve a work-life balance under the new working conditions. The speakers were Oddrun Midtbø, freelance journalist from the Norwegian Journalists' Union, Tuomas Aalto, lawyer at the Finnish Journalists' Union, Cláudia Martins, radio reporter and board member of the Journalists' Union of Portugal, and Ruairi Fitzgerald, Advisor at European Trade Union Confederation (ETUC). Maja Sever, President of Trade Union of Croatian Journalists (TUCJ) moderated the panel. 
The right to disconnect is of big concern and needs to be better regulated. Respectively, Ruairi Fitzgerald said: "We need to push for European legislation. There has to be a clear, transparent way to ensure that those who rightfully disconnect do not lose out compared to those who are connected all the time. It's a culture change."
The importance of joining a union, especially for freelance journalists, was underlined throughout the webinar, with many benefits associated with having a union's support to achieve work/life balance and assure fair communication with the employer. 
Companies and employers have responsibilities in securing and providing or reimbursing adequate equipment, and paying social benefits for their employees, whether at the office or at home. More transparency about incidents at work while teleworking is needed, as Tuomas Aalto indicated. Legislation on data protection and privacy is also required. 
Despite various support from the unions and measures, Cláudia Martins pointed out the harsh reality facing many female journalists who often struggle to achieve work-life balance because of family duties. "It is already difficult to achieve work-life balance before the pandemic. It barely exists during the pandemic," said Martins.
On the second day, Allan Boye Thulstrup, Vice-President of the Danish Journalists' Union, moderated a panel focusing on what unions and associations can do to secure the benefits of telework, how they can reach out to journalists and what to expect from media employers. The panelists were Pierre Bérastégui, ETUI researcher, Nayla Yazbeck Glaise, Member of the Presidium of UGICT CGT and Eurocadres, and İlyas Coşkun, Occupational Rights Officer at the Journalists Union of Turkey (TGS).
In his presentation, Pierre Bérastégui offered guidelines for good practices for telework, which he defines as "a new way of organising and performing work, that implies a reorganisation of work processes, going beyond digital tools and touching upon every aspect of the work situation." Among other recommendations, he listed the following:
Work relations: Ensuring proper dissemination of corporate information; promoting informal exchanges between workers; promoting a culture of trust and openness; and fostering social and instrumental support.
Work content: Specifying clear and achievable objectives; adapt and rebalance workload if necessary; preventing dispersal of efforts and duplication of work; and training managers on how to manage workers remotely,
Work organisation: Clarifying roles and responsibilities for everyone involved; allowing flexibility in organising working time and space; setting guidelines regarding communication methods; and finding the right balance between autonomy and control.
"The main challenge is to avoid social isolation and ensure that remote workers stay connected with their colleagues and employer," Bérastégui emphasised. "On health and safety, it's always useful to remember that employers have a responsibility and that all workers should benefit from the same level of protection regardless of where they are working from."
Although hybrid work can bring many benefits such as flexibility, freedom, well-being and better life quality, there are plenty of challenges. The role of unions is to help solve these issues. Nayla Yazbeck Glaise and İlyas Coşkun gave practical insights into what unions can do. At UGICT CGT, they are offering several resources to learn about the rights of teleworkers and provide model telework agreements. In his presentation, İlyas Coşkun referred to this 12-point-list of recommendations by TGS. In Turkey, a rise in unpaid work during teleworking has been recorded. "Journalists and media workers say they face more peculiar working conditions in the wake of this pandemic. Therefore, regulations should be legislated by law," Coşkun said. Despite this, the TGS successfully reached out to journalists and negotiated collective agreements with media companies to include conditions on telework. 
Recurring issues that unions are dealing with concern the right to disconnect, health and safety, expenses, isolation and workload. In conclusion, as Bérastégui said: "Employers should be aware that telework is a double-edged sword. It can be fulfilling but also draining and isolating. It can be an opportunity for mutual trust but can also lead to resentment and feeling of injustice. It all depends on how teleworking is implemented at the company level."